Earth Arbor Day Highlights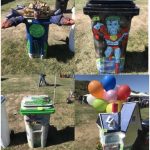 cArt aRt Contest – DEADLINE to enter is April 17, 2019
Community members are encouraged to transform trash carts into vibrant pieces of art using paint, art supplies, recycled items, and creativity to increase awareness of reusing and recycling household items. Residents can register to pick up a free trash cart, decorate it and be entered into a contest for prizes as part of the City of Santa Clarita's cArt aRt Competition. For more details and to participate, review and submit this cArt aRt entry form 2019.
ZERO WASTE
At the Earth Arbor Day event, the City of Santa Clarita will be changing it from a zero waste concept to a zero waste reality! That's right, there will be no waste receptacles at the event. Instead, the City of Santa Clarita's franchised commercial solid waste services provider,
Burrtec Waste Industries, will be providing only recycle and compost bins. A group of volunteers will guide and educate event participants on which items belong in the recycle or compost bins. Additionally, the City worked with the vendors at the event to ensure that all of their products do not generate any waste and can be reused, recycled, or composted.
Tree City USA Award
In conjunction with the Earth Arbor Day celebrations, the City will be celebrating its 29th Annual Arbor Day. During the celebration the City will be recognized by the National Arbor Day Foundation and receive its 29th consecutive Tree City USA award. The Tree City USA program is conducted by the National Arbor Day Foundation and the National Association of State Foresters. The awards program is designed to recognize communities that effectively manage their public tree resources, and to encourage the implementation of community tree management.
This year's event will offer 1000 free trees to the public and free bags of mulch (while supplies last). In addition there will be volunteer tree planting opportunities for all ages. Ten new trees will be planted throughout Central Park. This is an opportunity for community members to help plant trees to offset the effects of global warming and to improve our air quality. For volunteer opportunities visit our Volunteer Engagement page.