Bike to Work Day Challenge 2020 – CANCELLED – Stay tuned for the 2021 challenge!

This friendly competition is among businesses in the City of Santa Clarita to see which employer can get the most employees to bike to work on Thursday, May 14, 2020. This event will take place during Bike Week Santa Clarita, which will include several bike related events.
On Bike to Work Day, five bicycle pit stops will be available for the cyclists. Santa Clarita Transit and Metrolink are offering FREE rides for anyone on local routes that have their bike and/or helmet. That way you can complete your commute, even from a distance! Also, riders will have the opportunity to receive prizes!
Be part of the solution and pledge to bike to work. Click below to register your business to participate and pledge as a rider.
Bicycling reduces traffic, keeps our air clean, improves your health, and saves you money on gas!
Call (661) 286-4098 if you have any additional questions.


Help the Environment & Win Great Prizes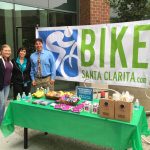 The businesses with the highest participation rate (in each category) will win a gift certificate to the restaurant of their choice and a free smoothie from Juice It Up – Santa Clarita for all the business team members who ride. There are three categories of competition:
Small Business (2-25 employees) Prize- $75 Gift Certificate to restaurant of choice & free Juice It Up smoothie
Medium Business (26-100 employees) Prize – $150 Gift Certificate to restaurant of choice & free Juice It Up smoothie
Large Business (over 100 employees) Prize- $250 Gift Certificate to restaurant of choice & free Juice It Up smoothie
Team Information
Businesses should designate a "lead rider" who will be responsible for registering their business, encouraging co-workers to ride, and act as the point of contact. Each lead rider is required to submit a list of cyclists who ride on May 14, 2020, to Laura Jardine at ljardine@santa-clarita.com or by pledging each rider online (above). These names will be entered into the City's raffle for prizes. The prizes include KHS bicycles, gift certificates, quality cycling gear, movie tickets, and more.
All Challenge participants are eligible for the City's raffle and prizes. To register your business with the City please click the business button above or call (661) 286-4098.
You Can Also Win Great Prizes from Metro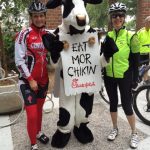 All participating cyclists, including individuals not on a business team, are also eligible to win great prizes from Los Angeles Metro (Metro) including gift certificates, bike accessories, and more. By pledging to ride on Metro's Website and biking to work on May 14, 2020, you will be eligible to win prizes from Metro in addition to the City raffle prizes. Link for Metro coming soon. 
Stop by the City's Co-Sponsored Bicycle Pit Stops!
The City has teamed up with Bicycle Johns, Valley Bicycles, and Performance Cyclery to host bicycle pit stops. Cyclists can stop for refreshments, get energized, receive giveaways, and information on cycling. The following pit stops located in Santa Clarita will be open from 7:00 a.m. to 9:00 a.m on May 14, 2020:
City Hall – 23920 Valencia Boulevard
Hosted by the City of Santa Clarita
Bouquet Junction (Valencia Blvd & Bouquet Cyn Rd.) – Behind Chi Chi's
Hosted by Performance Cyclery
Trail access at Camp Plenty & Soledad Canyon Road
Hosted by Bicycle Johns
Trail access at Newhall Avenue & 16th Street
Hosted by the Valley Bicycles 
City Public Works Yard – 25663 Avenue Stanford
Hosted by City of Santa Clarita
Princess Cruises invites the public to stop by their pit stop!! – Visit them at 24303 Town Center Drive – behind Soup Plantation in the courtyard.
Great Online Resources
Call the City at (661) 286-4098 with additional questions or to participate!
---
Thank you to our partners!