Bulky Item & Illegal Dumping
Bulky Items 
If unwanted large items or electronic items are unable to be donated for reuse, City of Santa Clarita residents can properly dispose of them for FREE through the following options:
Curbside Collection – 
Waste Management residential customers are entitled to four (4) bulky item pick-ups per year (no more than 3 items per pick-up) at no charge. Please contact Waste Management Customer Service at 661-259-2398 at least 48 hours prior to your regular service day to schedule the items for pick up.
Residential Drop-Off –
Bulky and electronic items, comprising of no more than one (1) cubic yard per visit per day, may be dropped off at the Waste Management facility located at 25772 Springbrook Ave., Santa Clarita, CA  91350. Drop-off is available Monday through Friday 8:00 a.m. to 5:00 p.m.
Acceptable bulky items – furniture, appliances, electronic equipment, tree branches, scrap wood, sod and tires.
Unacceptable bulky items – household hazardous waste (such as paint, oil, and batteries), construction and demolition debris (such as concrete, bricks, cement blocks), spas, pianos, camper shells and items requiring more than two persons to safely handle.
---
Illegal Dumping/Abandoned Items
Don't Trash Your Community!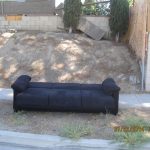 Illegal dumping damages neighborhoods, ruins the beautiful views of Santa Clarita, threatens the environment, and it's against the law. If you witness illegal dumping or locate items that have been illegally abandoned in the City right of ways, you can report it online through our Resident Service Center.
Dumping in the Storm Drain
The storm drain system is in place to quickly move rain water from the streets to the river in order to prevent flooding. Improper disposal of paint, motor oil, cleaners, and other contaminants will pollute our river and may affect local groundwater. To report illegal dumping and discharges to the storm drain system, call the City's Stormwater Hotline immediately at (661) 222-7222.