Hazardous Waste
Many items commonly used in homes contain toxic chemicals that are harmful to the environment. These items are typically referred to as household hazardous waste (HHW).  Proper use and disposal is critical to your safety and the health of the environment. View a list of common household items that qualify as HHW. For disposal information, please click on any of the categories listed below.
Hazardous Waste Includes:
Paint Disposal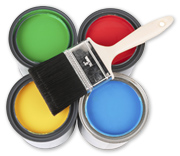 In October 2012, a new California law required the paint industry to develop a sustainable solution to manage postconsumer paint. Under the new program, the paint industry has made paint recycling more convenient by setting up hundreds of drop-off sites throughout the state where residents can bring leftover paint. Residents can drop off paint for FREE at the following locations in the Santa Clarita Valley. We suggest you call first to ensure they have sufficient capacity for your paint disposal needs.
 Paint Disposal Locations
Sherwin-Williams (up to 5 gallons per resident, per day)
21021 Soledad Canyon Road
Santa Clarita, CA 91355
(661) 260-1581
Dunn Edwards (up to 15 gallons per resident, per day)
25520 The Old Road
Stevenson Ranch, CA 91381
(661) 255-5301
Vista Paint (up to 20 gallons per resident, per day)
21010 Golden Triangle Road
Santa Clarita, CA 91350
(661) 424-0603
To find additional paint drop-off locations in Southern California you can search the statewide database.
---
 Dispose of Used Motor Oil

Please do not place used motor oil, filters, or other automotive fluids in your regular trash or recycling containers. Santa Clarita has over 20 certified collection centers that will take and recycle used motor oil and filters for FREE. Click the flyer image below to find a location near you.
For a FREE oil change kit (while supplies last), visit the Public Information Desk at City Hall – 23920 Valencia Blvd. Call (661) 286-4098 to reserve one for pick-up.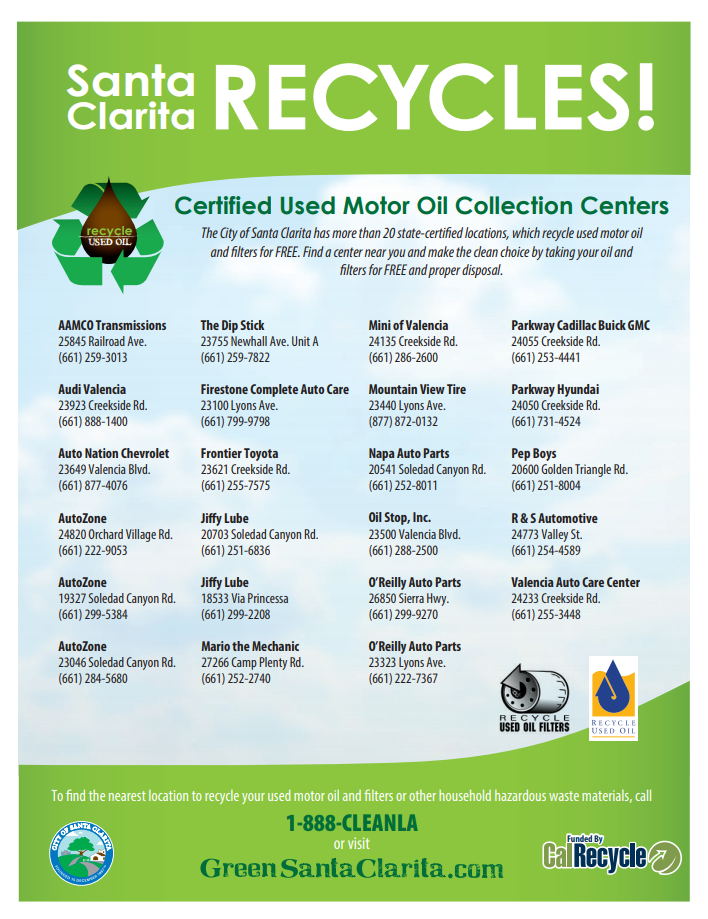 To dispose of antifreeze, gasoline, windshield washer fluid, or other types of automotive fluid, visit a S.A.F.E. Collection center listed in the "Other HHW" section below or watch for a local collection event.
You can also visit Earth911.com for locations outside of Santa Clarita
---
Chemicals, Cleaners, Electronic Waste (E-Waste) and Other HHW Items
888CleanLa.com
There is a solution for those old televisions, broken computers, half empty paint cans, unused pesticides and other hazardous waste sitting in your garage. You can even dispose of your cooking oil as well!

You can take these and many other items to the next Los Angeles County HHW/ E-Waste Collection Event for FREE. You may check the Calendar & Events section on this site, the Los Angeles County website, www.888cleanla.com or call toll free at 1(888) CLEAN LA for additional information. In addition, there are two permanent collection centers near Santa Clarita to dispose of your hazardous waste and E-waste year round. The S.A.F.E. Collection Centers are located at:

11025 Randall Street
Sun Valley, CA 91352
and
10241 N. Balboa Blvd.
Northridge, CA 91325

These centers are open Saturday and Sunday from 9 a.m. to 3 p.m. Please call to verify current hours of operation:: 1-800-988-6942
If the above options don't work for your electronic waste disposal, you may also check with your waste hauler to see if they can schedule a pick-up of your E-waste items at your home.
---
Batteries
Battery recycling has never been easier. The City has a battery recycling program to assist City residents with recycling household batteries, including AA, AAA, C cells, D cells, rechargeable and button batteries. If you are disposing of lithium batteries either tape the ends or put them in a plastic baggie first.
Below are 6 locations conveniently located throughout Santa Clarita:
Battery Drop Off Locations (Lithium, Alkaline)
Valencia Library
23743 W. Valencia Blvd.
Santa Clarita, CA 91355
(661) 259-0750
Hours:
Mon-Thurs 10am-9pm
Fri 10am-6pm
Sat 10am-5pm
Sun 1pm-5pm
Canyon Country Jo Anne Darcy Library
18601 Soledad Canyon Road
Santa Clarita, CA 91351
(661) 259-0750
Mon-Thurs 9am-8pm
Fri 10am-6pm
Sat 10am-5pm
Sun 1pm-5pm
Old Town Newhall Library
24500 Main Street
Santa Clarita, CA 91321
(661) 259-0750
Hours:
Mon-Thurs 9am-8pm
Fri 10am-6pm
Sat 10am-5pm
Sun 1pm-5pm
Newhall Community Center
22421 Market Street
Santa Clarita, CA 91321
(661) 286-4006
Hours:
Mon-Fri 2:30pm-8pm
Sat 11am-5pm
Santa Clarita City Hall
23920 Valencia Blvd
Santa Clarita, CA 91355
(661) 259-2489
Hours:
Mon-Thurs 7:30am-5:30pm
Fri 8am-5pm
Canyon Country Community Center
18792 Flying Tiger Drive
Santa Clarita, CA 91387
(661)284-1480
Hours:
Mon-Fri 9am-6pm
Sat 10am-2pm
Recycle worn-out rechargeable batteries like those in cellphones, computers or power tools. To find a free local drop-off location, visit call2recycle.org/locator
---
CFL Disposal
If a CFL bulb is broken at your home or business, extra caution should be taken due to the small amount of mercury content in the bulb. Please open a door or window and leave the area for 10-15 minutes, then follow the clean up instructions by the U.S. Environmental Protection Agency at www.epa.gov. If you have unbroken bulbs to dispose of, please see the disposal locations below.
At participating retail stores, customers can simply bring in any expired, unbroken CFL bulbs, and either give them to the store associate behind the returns desk or drop them into the designated bin. The bulbs will then be managed responsibly by an environmental management company who will coordinate CFL packaging, transportation and recycling to maximize safety and ensure environmental compliance.
Please contact the following stores to verify their participation:
Home Depot 
20642 Golden Triangle Rd
Canyon Country, CA 91351
(661) 252-7800
Hours:
Mon-Sat 6am-10pm
Sun 7am-9pm
Home Depot
28033 Newhall Ranch Rd
Valencia, CA 91355
(661) 702-9925
Hours:
Mon-Sat 6am-10pm
Sun 7am-9pm
Lowe's
Each of the local Lowe's has recycling containers for compact fluorescent light bulbs (CFLs), cell phones, and rechargeable batteries. For more information, please visit Lowe's
recycling website.
---
Safe Disposal of Needles & Medication
Sharps
Waste Management (WM) offers the Sharps Home Delivery program for City of Santa Clarita residents.
Residents will be able to conveniently and responsibly dispose of needles, lancets, syringes and other sharps from their own homes. On an annual basis, residents will receive one free Sharps Mail-Back container and the second is available for a $5.00 co-pay. All City residents have to do is call WM customer service at (661) 259-2398 to request their free container, and WM will deliver it to their home the following week. For more information about this or other programs visit www.keepingscvclean.com
FREE sharps containers are available to residents of Los Angeles County. To get a free sharps container, visit one of their S.A.F.E. Collection Centers or attend a HHW Round-Up event. For information on both of these options, visit the L.A. County Sanitation District website.
---
Medications Drop Off
There are a few options available for residents who wish to dispose of medication or any narcotics in the Santa Clarita Valley. The Santa Clarita Valley Sheriff's Station will host a monthly take-back event where pharmaceuticals and illicit drugs will be collected with no questions asked. To get a schedule of the take-back events, call the Sheriff's station at (661) 255-1121 or visit their website.
Santa Clarita Valley Sheriff's Station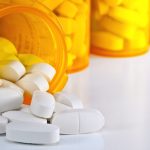 23740 Magic Mountain Parkway
Santa Clarita, CA 91355
(661) 255-1121
There is also a sharps/needle collection box located at the station that is available for residents that have a one-time need for disposal. See above for on-going sharps disposal programs.
In addition to the above option for medication disposal, Henry Mayo has a medication disposal container located in the main lobby of the hospital. Medication can be dropped off by any Santa Clarita resident seven days a week from 8:00 a.m. to 8:00 p.m.
Henry Mayo Newhall Hospital
23845 McBean Parkway
Santa Clarita, CA 91355
(661) 200-2000
info@henrymayo.com